Reducing time & energy consumption in production by using our Silicone additives
Reducing time and energy consumption is one of the major challenges that any production line is facing, now and in the future. Processes with low energy intensity are not only good for the environment but also reduce production costs. An important goal of energy efficiency is that product quality is maintained or improved.
The newly developed technology by Polymer-G QPI-3000 series makes it possible for production of silicone lenses and electronic devices that use 2K addition cure silicone for potting and protecting.
The QPI 3000 series is an accelerator additive based on a UV platinum catalyst design for addition cure silicone systems. Using the additive allows the silicone system to fully cure within minutes at room temperature without the need to speed up the silicone curing process using high temperatures.
Why use this technology?
Easy to use – No need for oven cure
Saves time- Cures in minutes under UV-LED 395 nm and not in hours.
Saves energy- reduces the energy consumption by 300%
Optimize your process by controlling the QPI concentration
Application: Manufacturing of silicone lenses

These figures will explain the benefit of using Polymer-G's QPI 3000
We compared a process of UV-LED cure of addition cure silicone with 2.5% of QPI-3000 to heat cure of the same addition cure silicone.
In order to evaluate the silicone cure conversion rates, two tests methods were used:
Shore A hardness – Each sample was tested 5 times, 2 min after the irradiation process, the final value is an average of the 5 measurements.
FTIR scans – According to previous research, analyzing specific peak at the FTIR spectra can help us evaluate the conversion status of the silicone sample.
Kinetic tests were performed following the decrease of the peak-area centered at 2160 cm-1 due to the decrease of Si-H bonds in the sample.
A Reference sample was prepared in accordance, with the currently used process:
The two components were mixed at a ratio of 1:1 and placed in an oven at 1500C for 4 hours.
When the sample cooled down (approximately 10 min), 70 shore hardness A was measured.
– UV cured samples
Shore hardness A: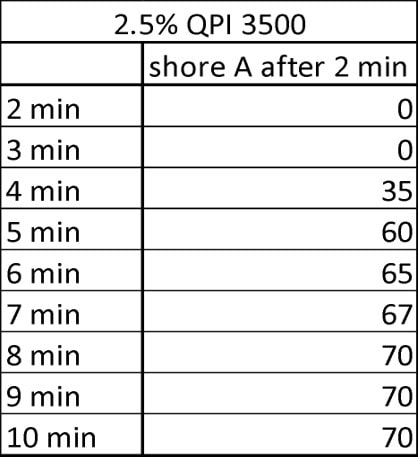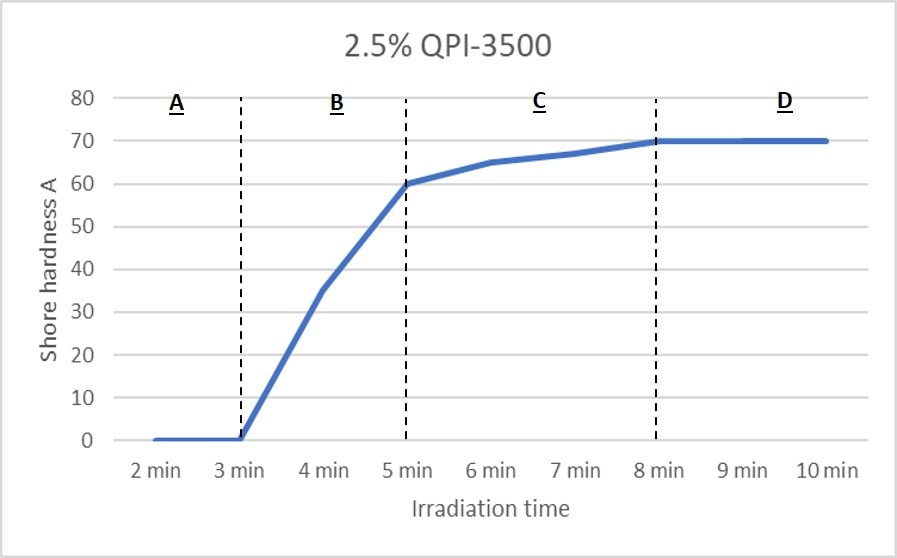 Wavenumber 1620 cm-1

The peak at wave number 2160 cm-1 indicates the conversion status of the samples. According to the scans, after 5 min of irradiation the silicone reaches more than 95% conversion. 7 and 8 min irradiation show the same results of 100% conversion.
Conclusions:
The energy consumption is reduced from 30WHr to 9.3WHr (more than 3 times more effective)*
The time is reduced form 4 Hr to 8 min.
According to the results shown above, by using the QPI-3000 additive in your process, you retain your quality and get a much more efficient process – that means that your goal is achieved!
*The curing processes was done in an MRC oven DF80  and was compared to curing under a UV-LED DROLED-70 lamp.
Contact us for more information
We are looking for distributors & agents!
Polymer G is a leading industrial adhesives manufacturer including Silicone materials for protecting electronic devices in the harshest operating conditions.
Contact us if you want to:
Become a distributor or an agent of  Polymer G a worldwide adhesives manufacturer