Graco PR70 2K Mixing & Potting

Desktop 2 Part Meter and Mix Dispensing system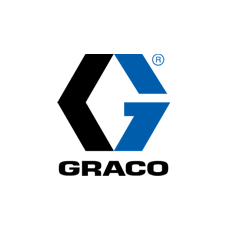 Graco PR70 – Fixed Ratio Benchtop Mix and Meter Unit for adhesives and sealants
Engineered to mix and meter of two-component adhesives, Graco's PR70 benchtop solution is one of the world most common dispensing units, fulfilling any dosing application in a compact, reliable and affordable unit.
Polymer-G is the exclusive representative of Graco in Israel on the adhesive fields and offers these systems with full custom design, on site installations and 24/7 site service by its local service engineers.
The Graco PR70 is capable of handling adhesives at high level of control with an advance fluid control module allowing it to integrate or communicate with other robotic platforms such as XYZ tables, industrial robots or cobots, linear axis etc.
The mix head is a well-designed pneumatically controlled MD2 high pressure Dispensing valve, which receives both adhesive parts individually, and then by a special mix block allow them to first meet in a static disposable mixer, even at ratios of 100:10. Although the high pressure generated using a 4.5" main cylinder, the head is designed to sustain back pressure by a special non-return valves and avoid dripping with its integrated snuffback mechanism.
The mixing is done inside the static mixer which thus guarantees a homogeneous mix at the desired ratio.
The Graco PR70 dispensing system mixes precisely two-part materials that have low or medium viscosity while the flow rate can be adjusted depending on the application. Such units are widely used to attach parts, casting of housings, gasketing, sealing or just pure mixing/filling.
The machine can be equipped with long hoses and a pistol gun at the end for remote or in movement applications such as beading. The size of the tanks can be adapted as well, with or without heating.
Graco PR70 2K Mixing & Potting Desktop 2 Part Meter and Mix Dispensing system Main Features:
• Stainless Steel Parts for extended operational life and compatibility with the dosed product
• The metering pumps ensures a precision of 2 % in dispensing
• A linear encoder making sure the pistons movement is corresponding to the actual move in order to have the assurance of the dosed quantity
• Volume of dispensing stroke vary from 2 to 70 cm3
• Mix ratio range from 100:100 to 100:10 at superior accuracy
• Multiple cylinder sizes to reach the specific target ratios and deliver ratio accuracy within +/- 1%
• Available Spare parts and site service by the rep Polymer-G
Graco PR70 2K Mixing & Potting Video: